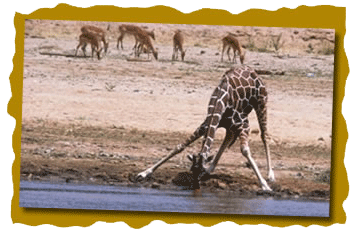 Day 1. Upon arrival at the airport you will be transferred to the hotel.

Lake Naivasha

Day 2. After breakfast drive to the eastern rim of the Rift Valley escarpment. Breath taking views of the valley floor. Descend the escarpment to Lake Naivasha, one of the few fresh water lakes along the Rift Valley. Extensive boat rides and prolific birdlife.

Lake Nakuru National Park.

Day 3. Depart to Lake Nakuru N/P for game drives at this park fame its millions of flamingoes, wildlife and other birdlife.

Lake Bogoria & Baringo

Day 4. After breakfast drive to lake Bogoria for the hot geysers (an opportunity to boil an egg with the hot springs) and variety of birdlife. Proceed past Lake Baringo for afternoon boaet ride and bird watching.

Kakamega Tropical Rain Forest.

Day 5. Depart after breakfast driving past vast corn farms, Nandi hills & tea estates into Kakamega the only remaining rain forest in Kenya. Plenty of flora, fauna and birdlife and night excursions.

Lake Victoria- Ndere Island , Kit Mikaye & Seme Tors.

Day 6. Drive to the lake basin to visit Ndere island which host variety of reptiles and birdlife. Late visit Kit Mikaye caves and Seme Tors huge stone outcrops sacred places for the Luo tribe.

Lake Victoria- Rusinga Island, Mfagano Island & Takawiri Island.

Day 7-9. Extensive boat excursions, islands hoping, fishing, cultural immersion, bird watching and visiting community based tourism projects

Maasai Mara G/Re.

Day 10-11. Three days of thrilling game experiences at this park recently declared a world due to its annual wildebeest migration across the Mara River.

Nairobi

Day 12 . After breakfast return to Nairobi to arrive for lunch. Afternoon city tour, dinner at the Carnivore Restaurant later you will be transferred to the airport for departure.
Get A Quote
---