Marine National Parks & Game Reserves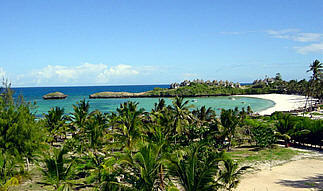 Malindi-Watamu Marine National Park
Malindi and Watamu Marine National Park are famous for their vast stretches of casuarinas fringed white sandy beaches, beauty and diversity of marine life which lives just off-shore on Barracuda and North Reef coral reefs and Turtle and Whale Islands; which is the nesting ground for roseate and bridled terns from June to September when they should not be disturbed and are protected by razor sharp rocks and rough sea.
Watamu Marine National Park and Reserve encompasses the Mida Creek mangrove forest where young coral begins its existence before the tides take it out to the reefs beyond. The forest roots are rich in fish, crabs, prawns and oysters and are also excellent for birdwatching. Tewa Caves, near the mouth of the creek, are partly underwater where Giant Groupers (up to 800lbs) co-exist with many other tropical fish species.
The low tide is best to make a trip. Floating slowly over the coral beds you get to see brilliantly coloured marine fishes of bizarre shapes,spiny fish urchins, brightly hued seas slugs, crabs and starfish.
Shore birds include; sanderlings, curlew sandpipers, little stints, whimbrel and greenshanks and three species of plovers: grey, great sand and mongolian sand. Non-breeding visitors include terns and gulls. They are; swift, lesser crested and saunders' little terns and the sooty or hemprich's gull. On the mainland Giant Monitor Lizards, dik dik, Antelope, mongoose and monkey species.
Mombasa Marine National Park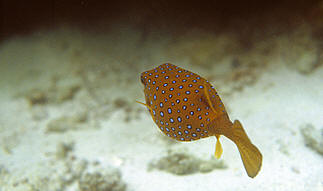 Mombasa Marine Reserve was formed first, to protect the previous coralheads and their resident marinelife from damage by over-fishing and trophy collecting (relics, shells, coral etc). Coral species include: branching (acropora), encrusting (turbinaria) and massive (porites). The National Park opened recently with the support of local hoteliers to prevent further stripping of the natural treasures from the reef in order to preserve its ecological and tourist attraction.
The Kenya Coast a unique tourist product. Almost 47% of Kenya's tourism occurs here. Nationally about 52% of the total hotel beds are at the coast, and 95% of the visitors to Kenya use the coast as a base for inland safaris.
The marine and coastal environments include Indian Ocean territorial waters and the immediate hinterland areas that border the ocean. Another feature of the coastline is the fringing coral reef which runs between 0.5 km and 2 km off-shore with occasional gaps at the mouths of rivers and the isolated areas facing the creeks. The shoreline is dominated in most areas by beaches, cliffs or mangrove forests. The coral-reef system and mangrove swamps serve the most important ecological role and the former is a major tourist attraction next to the sun, sea and sand.
Kiunga Marine National Reserve
Kiunga Marine National Reserve incorporates a chain of about 50 offshore islands and coral reefs in the Lamu Archipelago, running for some 60km parallel to the coastline off the northern most coast of Kenya and adjacent to Dodori and Boni National Reserves on the mainland. Composed of old, eroded coral, the islands mainly lie inland around 2km offshore and inshore of the fringing reef. They vary in size from a few hundred sq m to 100ha or more. Their walls rise sheer from the surrounding seabed and are usually deeply undercut on the landward side. The larger islands and the more sheltered inner islands are covered with low, tangled thorny vegetation including grass, aloes and creepers. The small outer islands provide nest sites for migratory seabirds. The reserve conserves valuable coral reefs, sea grass meadows and extensive mangrove forests, with their attendant biodiversity and is also a refuge for sea turtles and dugongs.
Activities at the Kiunga Marine reserve include; Wind surfing, Snorkeling, Water skiing, Sunbathing, Diving
Reptiles and fish and other marine life to be seen at this Kenya marine reserve include Sea Turtles, Olive Ridley, Leatherback, Turtles, Reef fish, Lobsters, Sea urchins, Sea star, Crabs, Mosquito
Kisite and Mpunguti Marine Park and Reserve
Kisite and Mpunguti Marine Parks are located on the south coast off Shimoni and south of Wasini Island in Kwale District on the south Kenyan coast of Mombasa near the Tanzanian border. Kisite and Mpunguti reserve covers a marine area with four small islands surrounded by coral-reef. Kisite island is a small waterless coral island, 8 km offshore in the Marine Park. Coral platforms around the raised central portion are exposed at low tide. The three other coral islets in the park (Mpunguti ya Juu, Mpunguti ya Chini and Liwe la Jahazi) lie closer to the larger Wasini Island, are scrub covered and support no significant wildlife or birds. The surrounding waters have well developed coral gardens and a large variety of fish.
Kisite is flat and treeless, covered in low grass and herbs while Mpunguti Islands have dense coastal equatorial forest. Sea grasses cover a large area of the sub-littoral zone of the reef.
Get A Quote
---