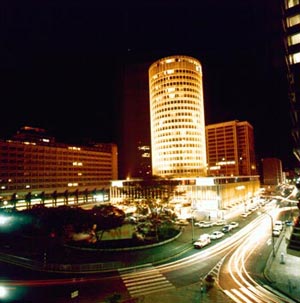 Nairobi is a city, financial capital, administrative capital, province and the capital of Kenya. The main languages spoken here are Swahili and English.Its has been has been planted with police kiosks in throw away distances as means to increase security.. There are many churches, mosques and temples where people of different faiths go to worship. Restaurants serve almost every kind of food, from local dishes to the most exotic. Curries from India and Pakistan are very popular as is Chinese, Arabian and European cuisine. Nairobi has the modern technology.

Nairobi Walking City Tour (5 hours)

This Nairobi city tour includes a tasty walk of the city-in-the-sun with a local guide's', where you have ample time for close photography, bargain and diversified shopping while visiting the stately Parliament buildings, Kenyatta International Conference Centre and the colorful Nairobi city market lift to the top of KICC to look at Nairobi skyline can be arranged) also are Visits to Kenya National archives & Watatu art gallery. Thereafter, a visit to the Snake park and National Museum: "the Finest Small Museum in Africa" well known for its spell binding exhibits and displays of early man, tribal regalia and the flora and fauna of Kenya also a close visit to the botanical garden .

Nairobi driving City Tour (3 hours)

This is a short city tour in Nairobi that takes you through the Central Business District viewing the shopping center, City market, parliament buildings,Kenyatta International Conference Centre ( KICC) and the Railway station. After this, a brief tour to the snake Park and the National museum a short distance away from the central district.

Half Day Karen Blixen Museum, Daphne Elephant Orphanage A Nairobi excursion where you spend a wonderful half day at the historical Karen Blixen museum ( Out of Africa) and baby elephants! the Daphne Sheldrick Elephant Orphanage.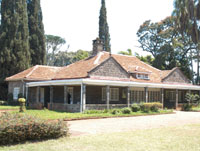 Karen blixen Museum

A Short tour to the home of the pioneer coffee farmer, Karen Blixen - of "Out of Africa" fame, is now preserved as a museum. A visit to this museum provides an opportunity to step back in time and gain an insight into this remarkable woman's life. Views of the Ngong Hills can be admired from the beautifully landscaped gardens of the museum.

The Karen Blixen museum is one of a number of very interesting regional museums and archeological and prehistoric sites of the National museums of Kenya, and it continues to be an immensely popular tourist attraction with the same words ' I dreamt of Africa'

David Sheldrick Elephant orphanage

where you come close to elephant calves! Daphne Sheldrick As part of the David Sheldrick Conservation Foundation rehabilitates baby elephants and other wildlife here at her home just outside of Nairobi National Park. These babies have lost their mothers to poaching, death, injuries, on getting lost in the wild or other tragedies. Daphne and her dedicated staff raise them to be released back into the wild when they are ready. Its worth visiting and see humanitarian care to the wildlife and the heart it takes to care. They charge a small entrance fees instead you can buy a souvenir or donate for the conservation.

Nairob African Butterfly Center 3 hours Butterfly Center in Kenya is the second world largest butterfly center after the main British Museum of Natural History in London. The butterfly center offers visitors a special informative and impressive excitement on butterflies rearing and their beauty with an added attraction offered to Eco-tourists .

The main aim of the center is to create awareness of conservation of African butterflies and butterfly experts from all over the world will be able to do their research in the library there. Steve Collins,the founder named one butterfly in honour of Leaky, who once headed the Kenya Wildlife Services, as a sign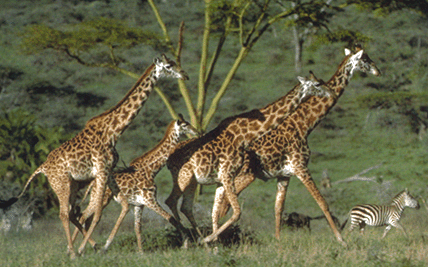 Bomas of Kenya (4 hours )

A walk to the numerous "bomas" (homesteads) reflecting Kenya's cocktail of cultures have been re-created j for visitors to experience the traditional village life of the People of Kenya. The highlight of this tour is the colorful display of folk dances from various tribes performed in a splendid arena and acrobats

Nairobi National Park Excursion (4 hours )

Nairobi National Park Kenya's first ever National park is a unique and unspoilt wildlife haven within sight of the city's skyline. Rhino, buffalo, cheetah, zebra, giraffe, lion and plenty of antelopes and gazelles can be seen roaming in this open plains country with a section of highland forest as well as stretches of broken bush country, deep, rocky valleys and gorges with scrub and long grass. Ornithologists catch with over 300 bird species including the Secretary bird, crowned cranes, vultures, peckers and many more.

Nairobi Safari Walk

The Nairobi Safari Walk is a Kenya Wildlife Service Conservation education initiative. You walk along the fenced and raised terrace as you come close to birdlife,lions,trees,lepoard,antelopes and much more.Awareness, understanding and appreciation of Kenya's variety of wild animals, plants in their surroundings, their interdependence and relationship to people is what will be achieved by visitors for a closer interactive and recreative wildlife experience "The Nairobi Safari Walk"
Get A Quote
---