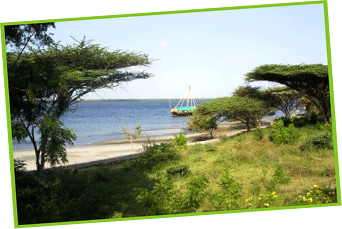 The first thing you now think on arrival in Kisumu, apart from the internationally acclaimed Tilapia fish, is the cultural Home of the US president, Barrack Obama. You then quickly think of where the Prime minister of Kenya comes from. For some strange reason, these two come from the same region, Siaya district, bordering Lake Victoria, on the eastern side of the lake.

In our schedule for your trip on this circuit, we shall have the option of a flight to the Kisumu Airport; rest you for a night at a nice hotel in the Kisumu city before taking you by road to Siaya, the home of the world's renowned enigmatic leaders today. We shall thereafter return to Kisumu city for an experience with the locals of the city before touring west by road. We must enjoy the beautiful islands of the lake, with their cultural experience that can be matched by none.

On completion of the phenomenal Nyanza coast visit, we shall tour the soapstone region of Kisii before touring the Maasai Mara. We then will fly back to Kisumu (Chartered flight) in time to catch our return flight.

Kisumu is a port city in western Kenya at 1,131 metres (3,710 ft), with a population of 355,024 (1999 census). It is the third largest city in Kenya, the principal city of western Kenya, the capital of Nyanza Province and the headquarters of Kisumu District. It has no municipal charter. It is the largest city in Nyanza Province and second most important city after Kampala in the greater Lake Victoria basin.

Kisumu literally means a place of barter trade "sumo".

Sights

Attractions in the city include Kibuye Market, the Kisumu Museum, an impala sanctuary, a bird sanctuary, Hippo Point, and the nearby Kit Mikaye and Ndere Island National Park.

Kisumu Museum

Kisumu Museum, established in 1980, has a series of outdoor pavilions. Some of the pavilions contain live animals. For example, one pavilion contains numerous aquaria with a wide variety of fish from Lake Victoria, along with explanatory posters. Another pavilion contains terrarium containing mambas, spitting cobras, puff adderscrocodile container. Other pavilions show weaponry, jewellery, farm tools and other artifacts made by the various peoples of the Nyanza Province. Additionally, there are exhibits of stuffed animals, birds and fish. One pavilion houses the prehistoric TARA rock art, which was removed for its own protection to the museum after it was defaced by graffiti in its original location. and other venomous Kenyan snakes. Additionally, out of doors, the museum has a few additional exhibits, including a snake pit and a

Kisumu Impala Sanctuary

Kisumu is location of the Kisumu Impala Sanctuary. Measuring just 0.4 square miles (1.0 km2), the sanctuary is one of Kenya's smallest wildlife preserves. As its name suggests, it is home to a herd of impala. Some hippos, as well as many reptiles and birds are also present. Additionally, several caged baboons and leopards who faced difficulties of one sort or the other in the wild are held in cages there.

Hippo Point

Hippo Point is a 600-acre (240 ha) viewing area on Lake Victoria. Despite its name, it is better known as a viewing point for its unobstructed sunsets over the lake than for its occasional hippos. Hippo point is near the village of Dunga, a few kilometres SW of the town. The village also has a fishing port and a camping site.

Kit Mikayi

Kit Mikayi, a large rock with three rocks on top, and is located off Kisumu Bondo Road towards Bondo. Kit-mikayi means "Stones of the first wife" or "First Wife Rocks" in Dholuo, the Luo language. It is a weeping rock There is a whole big story behind the rock by luo community in the neighborhood.

Transport

Before the jet airline era, Kisumu was a landing point on the British flying boat passenger and mail route from Southampton to Cape Town. Kisumu linked Port Bell and Nairobi. Kisumu is served by Kisumu Airport, with regular daily flights to Nairobi and elsewhere. There are plans to expand the airport in anticipation of increased trade brought about by the recreated East African Community of Kenya, Tanzania and Uganda. Lake Victoria ferries have operated from the port linking the railway to MwanzaBukoba in Tanzania, and to Entebbe, Port Bell, and Jinja in Uganda and

Kisumu Homestead

Kisumu Museum is located in Kisumu town along the Kisumu - Kericho highway. It was opened to the public in 1980.The museum stores and disseminates information on cultural and scientific issues with emphasis on Western Kenya. Many exhibits exist in the museum for historians and thos who just love art.

Tom Mboya Mausoleum

It was built in honour and remembrance of the late Tom Mboya. This is a burial place of Tom Mboya. It has information on the family, and Luo history. Tom Mboya?s role as an international agent of Kenyan government is also presented. The transfer of this mausoleum to the care and protection of the National Museums of Kenya has led to its proper management and conservation.

The Mausoleum will form an infrastructure of the greater museum to come on the Rusinga Island.

Kanam prehistoric site

Kanam is situated along the shores of Lake Victoria on Homa Peninsular around Homa Mountain. The site was gazzetted in August 1933. In 1932, Louis Leakey?s expendition discovered a fossil human mandible together with Pleistocene fauna and pebble tools in the early Pleistocene Kanam beds at Kanam West. Initially, it was thought to be australopithecine. Doubts were thrown against this specimen, and Leakey suggested that the fossil was that of Homo sapiens but later Leakey supported Sir A. Keith?s view of australopithecine. Today, they are seen to be Neanderthaloid. Recently, researchers found palaeontological bones dating between 1 and 6 million years ago at the site.

Simbi Nyaima

Simbi Nyaima means the village that sank. Simbi Nyaima is actually a crater lake a few kilometers from the shores of Lake Victoria. The Luo attach great importance to the site because of the legendary story. It is said that the people of Simbi were celebrating their success at the chief?s home. An old woman appeared at the scene looking for shelter and food. But the chief threatened to beat her up if she stayed. She was forced to leave and one lady sympathized with her and gave her food and a warm bath. She advised the kind lady to leave the village with all her children and husband.

No sooner had they left than a heavy storm swept the whole village and it sank. The locals believe it happened in the olden days.

Soapstone of Kisii

The Gusii are known for their soapstone carvings, basketry and pottery. The soapstone of kisii is found in the Tabaka Hills of Western Kenya near the town of Kisii. A soft and easily worked stone, it comes in a variety of colors ranging from cream and lavender to black. It is then carved into various works of art, such as vases, trays, food bowls and African animals which are then polished and decorated before being sold in malls, galleries, and art and crafts shop around Kenya.

The Kisii women weave storage baskets and granaries. These are used to store potatoes and grains, as well as during tea harvesting on the farms.

The Kisii stool, a seat embedded with colored beads and decorative patterns, is a symbolic craft product of the Kisii people.

It is possible to combine this trip with a quick flight to the Maasai Mara for a visit to the wildlife of the Mara.
Get A Quote
---