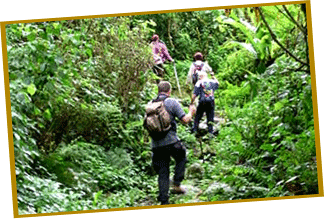 Immediately below the Murchison Falls is said to be the finest place to catch Nile Perch anywhere. The best success in landing THE BIG CATCH comes either early morning or late afternoon, so be prepared to rise early to ensure success. Large fish are common along the entire length of the Nile River.

The largest Nile Perch caught in MFNP was in Feb. 2001 weighing in at 120 kg. The record "catch" to date in the Sambiya Fishing Hall of Fame (fishermen & women staying as guests at Sambiya are elegible) was a 100 kg. Nile Perch in Aug. 2002. It is common to land fish weighing 20 to 70 kg. Choose one of the nine pools below the Falls and try your luck. And the giant Nile perch are not the only prey - Murchison Falls is also renowned for barbel, electric catfish, giant catfish, fighting tiger fish and giant tiger fish. Bring your favourite rod and reel, gaiters, nets and lures. Bait is available, as are weighing facilities.

You should be fairly fit to enjoy fishing at the base of the Falls as you will be required to hike down to the bottom of the Falls on fairly rugged trails. New access points are being cleared to assist vehicle transfers. Some anchor places are available along the banks of the Nile.

BASIC INTINERARY

DAY 1: From Kampala, head North through the districts of Luwero and Masindi with their traditional farm and villages. After a fuelling stop in Masindi town, proceed to Sambiya River Lodge. After lunch, tour the top of the Falls, where the Nile crashes through a 6 meter gorge to fall 45 metres. Numerous scenic viewpoints are a photographer's delight! Check out likely pools around the rocks and boulders. Dinner overnight at picturesque Sambiya River Lodge

DAY 2: Check out the Nile River pools below the Falls. Hike down from the top of the Falls for a full day of fishing. Pick up the launch for the return or hike back up. Transport is provided for your transfers. Overnight at Sambiya River Lodge.

DAY 3-5: Patience is a virtue, so keep trying. We hope to fry up your catch for dinner one of these nights. You may also want to cast off into several pools located above the Falls. Dinner and overnight at Sambiya River Lodge.

DAY 6: After having caught the BIG ONE, enjoy the other attractions of Murchison Falls National Park. A game drive, boat cruise and/or a forest walk can be included in your itinerary to fully enjoy all that Murchison Falls N.P. has to offer.

DAY 7: Clean your gear and pack it up for your return to Kampala after lunch.
Get A Quote
---