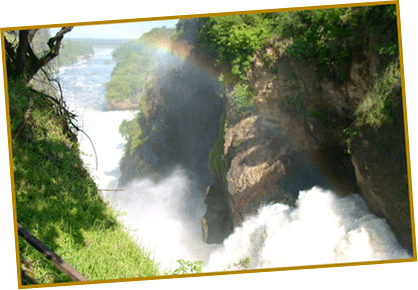 (LAKE MBURO, GORILLAS, QUEEN ELIZABETH, KIBALE, SEMULIKI, MURCHISON FALLS NATIONAL PARK)

DAY 1: Depart from Kampala for south-western Uganda. Cross the Equator, driving through savannah and scattered bush country. Enter Lake Mburo N.P., the only park in Uganda that surrounds an entire lake. See herds of zebra and other savannah mammals. This park also acts as home to over 300 species of birds. Enjoy a game drive and boat ride on the lake. Dinner and overnight at Rwonyo Rest Camp or Mantana Camp.

DAY 2: From Lake Mburo, drive through the mountainous and heavily terraced area of Kigezi, aptly named "the Switzerland of Africa". Stop at beautiful Lake Bunyonyi – Lake of Little Birds – before continuing to Bwindi Impenetrable or Mgahinga Gorilla N.P. The evergreen forests combined with excellent service are relaxing after the day's journey. Overnight at a luxury camp or lodge.

DAY 3: Early morning your guides will brief you before you head towards the dense forest on your search for gorillas and an intimate interaction with these gentle and endangered animals. The forest also affords viewing other primates including blue monkeys, L'oehst monkeys, red tailed monkeys and chimpanzee, along with a variety of birdlife. The time spent trekking in this unspoiled tropical forest and watching the gorillas is certainly worth the effort. In the evening relax back at your luxury camp or lodge.

DAY 4: Leave the gorilla sanctuary for the Ishasha sector of Queen Elizabeth National Park. View the amazing contrast in scenery as you move from dense forest to open grasslands dotted with flat-topped acacia and primeval euphorbia trees. Famous for its tree-climbing lions, this part of the Park is also known for large herds of buffalo and kob. Continue to Mweya Safari Lodge on the shore of Lake Edward for dinner and overnight.

DAY 5: Start your day with the excitement of an early morning game drive. Then visit the volcanic area of Queen Elizabeth N.P. with its many salt lakes and extinct craters. In the afternoon, cruise the Kazinga Channel, which joins Lakes George and Edward. From the comfort of your boat you can watch for elephant and other game on the shore. Hippopotamus, crocodiles and water birds can be seen along the banks. Overnight Mweya Safari Lodge with dinner.

DAY 6: Early morning departure for exploration of Semuliki N.P. and Sempaya Hot Spring. This area is largely untouched by man. As an extension of the vast forest of the Congo, several species of birds and animals are unique to this park. Overnight at the Semuliki Safari Lodge.

DAY 7: Spend the morning exploring the lush forrest filled with primates and birds. After lunch search for chimpanzee and other primates. Dinner and overnight at Semuliki Safari Lodge.

DAY 8: Leisurely drive to Kibale Forest. This mature hardwood forest harbours 11 species of primates and a variety of birds and butterflies. Lunch upon arrival and the afternoon is free for short hikes and exploring the surroundings. Dinner and overnight at Ndali Lodge or Rwenzori Guesthouse.

DAY 9: Early morning visit to Kibale Forest for chimpanzee trekking (persons must be of a minimum age of 15 years). The forest is also home to other primates like grey cheeked mangabeys, baboons and vervet monkeys. Picnic lunch at Bigodi Forest Camp. In the afternoon, walk through the swamps to see birds and primates at close range. Dinner and overnight at Ndali Lodge or Ruwenzori Guesthouse.

DAY 10: After breakfast depart for Murchison Falls N. P. through the village towns of Kagadi and Hoima with lunch enroute. Visit the top of Murchison Falls, late afternoon and then proceed to Sambiya River Lodge, which is centrally located in the Park. With its picturesque setting and reputation for good service the lodge is a perfect base for your last two nights of safari.

DAY 11: Cross the Nile for an early game drive on the northern bank of the river. Animals frequently spotted here include Uganda kob, hartebeest, elephants, Rothchild's giraffe, Cape buffalo, topi and lion. After lunch at the Lodge, relax by the pool or experience nature close-up on a forest walk with a ranger guide. Overnight at Sambiya River Lodge.

DAY 12: Depart Murchison Falls through Masindi. See traditional homesteads and farms en-route. Stop at Ziwa Rhino Sanctuary to go see the last of the African Big Five game (the only wild rhinos to be viewed in Uganda. The sanctuary is breeding a new rhino population after they became extinct in the early 1980's). Go for a game drive with a guide to track the critically endangered rhinoceros in pristine bush country. The 70 km. square sanctuary, of wooded grassland and open wetland, is also home for many bird species including crowned hornbills, grey hornbills and more! Arrive in Kampala early evening. End of safari.

NB.1. For those who would like to end their safari on a relaxing note, and spend one or two extra days in Murchison, the following itinerary can be followed:

Day 11a: Sleep in and enjoy a cup of coffee or tea on your verandah and then breakfast in the open sided Lodge. Experience nature up close.. Enjoy a late afternoon visit to the top of Murchison Falls where you will see the Nile crash through a 6 metre gorge. Visit the bat caves to see thousands of bats leaving for their nocturnal flights! Return to Sambiya River Lodge for dinner and overnight.

Day 12a: Cross the Nile for an early game drive on the northern bank of the river. Animals frequently spotted here include Uganda kob, hartebeest, elephants, Rothchild's giraffe, Cape buffalo and lion. IF YOU ARE LUCKY YOU MAY EVEN SEE LEOPARD! After a packed lunch enjoy an afternoon boat cruise to the bottom of Murchison Falls. Large crocodiles, hippopotamus, numerous water birds and other game can be spotted from the boat. Return to Sambiya River Lodge for dinner and overnight.

Day 13: Depart for Kampala after a relaxing morning.

NB.2. For those who would like to explore eastern Uganda, the following itinerary is possible:

Day 12 (above): Instead of arriving in Kampala early evening, drive to Jinga, the "East African Adventure Capital".. In route view numerous sugar cane and tea plantations. Overnight at Nile Porch (a mid range accommodation) or Jinja Nile Resort (an upper range accommodation).

Day 13: After breakfast, go white water rafting on the River Nile. (Note: For those who do not want to experience this activity, you can relax along the Nile, visit the famed Source of the Nile, see Bujagali Falls and visit a Fishing Village at Masese.) Overnight at your accommodation in Jinja.

Day 14: After breakfast, leave Jinja for Mbira Forest. Take a nature walk, viewing bird species including as well as other flora and fauna. Drive to Sezibwa Falls and lunch at a local resort overlooking the Falls. Take a nature walk and stop off and visit a traditional healer. Drive to Entebbe for your onward evening flight.
Get A Quote
---