A tour of western Kenya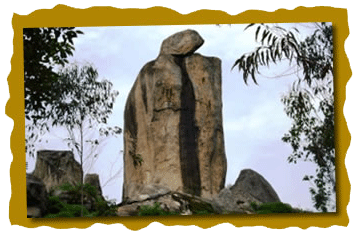 Cultural tourism at its best
Luhya Community
The main road from Kisumu leads to Kakamega Town, the heart of the land of the Luhya community. The Luhya have a diverse culture. There are many clans and sub-clans, each with varying customs and traditions. The Luhya community is known for the vibrant traditional dance known as the Isikuti. The dance is performed by groups of paired men and women to the accompaniment of bells and whistles, the main instrument being the 'Isikuti'. Many that have attended performances of this dance are left bewildered with excitement by the absorption with which the enthusiastic players exude. Be part of the fun while on your tour of western province in Kenya.
Bull fighting of Kakamega
Among the Luhya, the most important traditional sporting event is bull fighting. Two large bulls are brought into a large open field to fight. The bulls are spurred on by an excited throng of onlookers, blowing traditional horns. Bull fights are held throughout the year and are fast becoming a commercial venture, with the champion bull's owner winning money. Recently we visited the small village of Sigalagala, near Kakamega, where we attended a spectacular traditional bullfight. Such events are an important event for the local Luhya community, these are pitched battles between two bulls each one representing an individual village. Thronged by excited supporters, the bulls lock horns and fight until one bull turns and runs. The winning bull is led around the field in a victory lap, accompanied by a chanting, jubilant crowd. This impressive spectacle represents a significant cultural link between traditional African cattle culture and the art of bullfighting as practiced throughout Southern Europe.
Weeping Stone
Not far from Kakamega Town is the "weeping" Stone of Maragoli. This huge rock produces a constant stream of spring water, which flows on the sides, giving rise to many and varied local legends.
Cocks Battle For Supremacy
Cock fighting at the market place
Introduction
Cockfight is a common sport among the Luhya community of western province, Kenya. It attracts foreigners and brings together different sub-tribes in a social event that leaders say reduces immorality. This has not only been common event in Kenya or Africa it is also common in India and United Kingdom.
Details
The ceremony is one of the several major tourist attraction events in western province besides bull fighting of Kakamega. The western tourist circuit has classified this as a must see events.
The cocks are always bred, fed and nurtured by the owner before the fight. They are always fed on maize grain, ugali remnants (meal made from maize or corn flour).
The centre stage for this battle is at the village of Butsotso south, Lurambi district. The observance here is a common practice and attracts an audience from the community around and visiting tourist. Chanting Luhya war songs participating cocks leave their home in company of their owners and heads to the market centre for a showdown. Both the owners are always optimistic that their cocks will emerge victorious.
At the fight there is always a referee who blows a whistle to signal the start of the fight. The crowd sings and prod the cocks "Kamata shingo yake ndiyo hivyo Shujaa" (hold his neck, like that Brave) making this scene exciting.
The winner cock earns the owner recognition and respect among his peers and not only these but the fans also join him in a victory song. Really it's amazing?
Kakamega Forest
The Kakamega National Reserve is a 36 km2 reserve, situated at the north end of the Kakamega Forest, in Western Province, Kenya, at an elevation of about 1560 m, along the northeastern edge of the Lake Victoria basin. Along its eastern edge rises the partially forested Nandi Escarpment which runs along the western edge of the Rift Valley. The Kakamega Forest is generally considered the eastern-most remnant of the lowland Congolean rainforest of Central Africa. Faunally and florally, Kakamega is dominated by central African lowland species, but due to its elevation (predominantly between 1500 m and 1600 m) and proximity to the formerly contiguous Nandi Forests it also contains highland elements and is thus unique. The forest boundary (including the reserves) encloses about 238 km2, of which less than half is still indigenous forest.
Sample the remains of African beauty from nature that you will hardly see anywhere in Kenya but here.
Agri-tourism
For its agricultural riches, western province is granted to share in the glory of Western Europe. All forms of agricultural activity go on here. As a result, there a number of sugar factories and its accompanying sugar plantations. There are also coffee and tea farms that will be spotted. Close to the border with Uganda, one finds the Tobacco plantations that the Bukusu and Teso communities have embraced as their source of income, courtesy of the competing interests of Mastermind and British American Tobacco (B.A.T.) companies.
Maize farming also occupies many households as it is their main source of food.
Boda Boda Cyclists
There are more bicycles in Europe and in China than Kenya and East Africa in general but there in no place in the world that people use bicycles as a means of livelihood than in western Kenya. The users have organized themselves into organized groups and so in many instances will be spotted in uniform, transporting their clients.
These entrepreneurs and called Bodas and will often participate in competitive shows for fun.
This is one of the beauties of the people of western one will wish to enjoy while on tour of the region and Kenya in general.
Bungoma – the home of cultural circumcision
Bukusu Initiation / Circumcision
Explanation
According to Bukusu Oral Tradition, circumcision was originated hundreds of years ago by a brave young hero named Mango, who killed a monstrous serpent (yabebe) single-handed. For a long time, this serpent had terrorized the Bukusu by killing them and raiding their livestock, but there was no one who could kill it. Mango killed it using a sword at its cave, which has now been preserved as a sacred place under the name Mwiala wa Mango -- Mango's Cave. This cave is in Bungoma. It is said that after killing the serpent, he was regarded as the most valorous Bukusu man that ever lived. When Mango was asked what could be done for him so as to be commemorated as a hero, he demanded that a permanent mark be made on his body: that his foreskin be removed (sikhebo or circumcision). His demand was fulfilled and ever since, Mango decreed that in order for any young man to be called an adult, he must undergo circumcision.
Bukusu circumcision usually takes place in August of every even year.
Follow the story of the Bukusu traditional circumcision ceremony by yourself as you enjoy their un-matched rivalry
You can see the circumcisor with embalu or the circumcision knife.
On completing the fun of the Bukusu and neighboring communities in western Kenya, more fun is lined up further north. Here lies the sprawling Mount Elgon, making part of the border of Kenya and Uganda.
Many interesting activities and sceneries can be spotted here, starting with the well organized Mount Elgon national park to the sporadic cultural activities that can be arranged by the locals on request.
Mount Elgon National Park
Relief Map of Mount Elgon as viewed from 29 km
Map of Mount Elgon National Park
"Untamed wilderness, secluded splendour", Mt. Elgon is located 420 kms from Nairobi. Access is via tarmac road to Kitale, branch to murram road then to the Chorlim Gate. It can also be accessed from Bungoma town by road through Kimilili.
ACCESS
Roads: Mt. Elgon is located 420 kms from Nairobi. Access is via tarmac road to Kitale, branch to murram road then to the Chorlim Gate
Airstrips: There is one airstrip in the park
PARK GATES
Chorlim (main gate)
Kisawai
Kiptogot
Kimothon
SIZE / LOCATION
196 km2
On the western border of Kenya with Uganda, in Trans-Nzoia District of Rift Valley Province
CLIMATE
The climate is moist to moderate dry. Annual rainfall is over 1,270mm
SAFARI CARD REQUIRED?
At present the park does not operate the Safari Card system. Entry is by cash only.
MAJOR ATTRACTIONS
Caves
Salt Mining Elephants of Kitum Cave
Spectacular Waterfall
Game Viewing around the Mountain
Bird watching
Viewing the mountain
WILDLIFE
Elephant, leopard, giant forest hog, bushbuck, buffalo, duiker, black and white colobus, blue monkeys and golden cat, among others.
More than 240 bird species in the area, including the African crowned eagle, Ross' turaco, and red-fronted parrot.
BIRDS
340 bird species have been recorded, of which 230 are forest dependant, while 110 are forest specialist.
ACTIVITY OPTIONS
Mountain Climbing
Horse Riding
Picnicking
Camping
Bird watching
WHAT TO TAKE WITH YOU
· Drinking water, picnic items and camping equipment if you intend to stay overnight, walking boots, warm clothing, training shoes, socks, sandals and gaiters. Also useful are: binoculars, camera, hat, sunscreen, sunglasses and guidebooks.
A safari to western Kenya is a guaranteed journey of discovery and experience of the wild,
Get A Quote
---