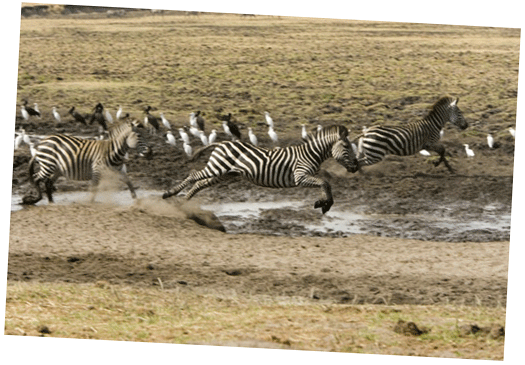 Day One (Charter from Arusha or Northern Parks to or from Dar to Ruaha to Katavi) Arrive in Katavi National Park in time for lunch. Afternoon game drive and evening walk.

Days Two-Three: Katavi

Each day will be different in this untouched wilderness, taking you to the most secret parts of the park, by foot or in open landrovers. Early mornings - when the air is cool - you'll walk* with guides to spy on the hippo pods in "Flat Dog (Crocodile) Creek"; standing absolutely still as a herd of elephant passes by; moving across the land at animal pace and taking in the power and beauty of this place.

As the day warms up, you might return to camp for food or find lavish picnic breakfasts, brunches, lunches laid out under shady trees. Landrovers will arrive to take you longer distances - circling the great herds of buffalo, looking for the prides of lions that stalk them continually - following the meandering rivers, crossing the tamarind forests in search of eland, sable and roan antelope. In the evenings we'll retreat to camp, candlelit dinners under canvas, while the hyenas screech on the plains.

Wherever you go, the shere numbers, variety and vitality of the Katavi game will blow you mind. For a wildlife fanatic, it's one of the most exciting places on earth.After three miraculous days in Katavi, just when you didn't think things could get any better, you are taken to another dream world :

*Landrovers available for those who don't want to walk

Day Four: To Mahale

A short morning flight – less than an hour, takes you across the unbroken wilderness of western Tanzania to the Mahale Mountains. The airstrip borders the sparkling blue of Lake Tanganyika, on whose shoreline lies Mahale Camp. On our forty foot wooden dhow, you'll take a gentle voyage down the lake to the camp beach. Arrive an hour and a half later. Short forest walk to attune in the early evening.

Day Five-Six-Seven: Mahale

Mornings you'll be chimpanzee tracking in the fairy tale Mahale forests. This can take anything from half an hour to catch up with them, to the whole morning. Once amongst them, you'll have an hour to watch as they live out their daily lives, right in front of you.

Afternoons and time away from the chimpanzees can be enjoyed by further exploring the forest (nine types of primate alone live in Mahale), boating expeditions for fishing, birding, snorkelling or relaxing on the soft sand beach and taking the crystal clear waters of Lake Tanganyika as the sun goes down.

On fine evenings, we'll have barbecues, dinners on the dhow, or simply razz it up in the splendid Mahale Mess.

Departure Day

After a leisurely start , we'll leave camp and take a boat back to the airstrip with a pack-lunch, for a flight to your next destination, where you'll arrive mid-afternoon.
Get A Quote
---