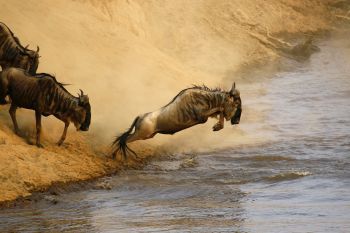 This magnificent safari follows the migration path between the Serengeti and the Masai Mara where hundreds of thousands of animals thunder past in search of greener pastures.

The first class Serena and Ashnil properties have been specially selected for their locations and you may be lucky enough to witness one of nature's greatest events.

The Ngorongoro Crater is the world's largest unbroken volcanic caldera, whose steep sides form a natural enclosure for a wide variety of wildlife; an estimated 25,000 animals, including the 'big five' inhabit the interior of the crater.

The Serengeti is Tanzania's largest and best-known national park, with a massive concentration of migratory animals that move around the park according to the availability of food.

Finally, into the world-famous Masai Mara, one of the most enthralling wildlife theatres on earth. The reserve is host to countless species, including the 'big five' (lion, leopard, elephant, rhino and buffalo) and, of course, the incredible spectacle of the annual wildebeest migration.

This safari is conducted in 4x4 vehicles in both Tanzania and Kenya.
Get A Quote
---