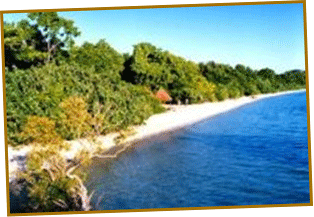 Fifty Kilometers North of Zanzibar Main Island is the highly fertile Pemba Island which, although smaller than Zanzibar, grows three times as many cloves.

The Pemba channel, which runs between the island and the mainland, offers some of the best game fishing in the world. The island also boasts some of the excellent beaches. Pemba has its own distinct character with more historical monuments, particularly ruined mosques and tombs, than on the main island. In the centre of the island is Chake Chake, the main town, where there are remains of a 200 years old Arab fort. Nearby at the Ras Mkumbuare are the ruins of the 14th century mosque, some elaborate tombs and the foundation of several houses. Also in this area are the remains of the 15th century fortress.

Interesting ancient sites can also been seen at Wete to the North. In this region is the Ngezi equatorial forest, containing rare trees, some not found anywhere alse in the world. The wildlife includes indeginous flying foxes, blue duikers and several variety of owls.

Pembe island off the north east coast of Zanzibar Main Island basks in its own tranquil lagoon. Boasting splendid beaches and spectacular coral reefs, alive with fish, it is renowned as the ultimate in 'barefoot luxury'.

Recreation

Chumbe island is a rare example of a still pristine coral island. A UN protected area it carries the accolade of "one of the most spectacular coral gardens to be found anywhere in the world" Tanzania first marine park, and the first privately managed marine park in the world,

Chumbe offers visitors the opportunity to snorkel through the shallow water Reef Sanctuary, scuba dive the nearby ref, or explore the forest reserve and historical monuments that include a 100 year old light house and the only ancient mosque with Indian architecture.
Get A Quote
---